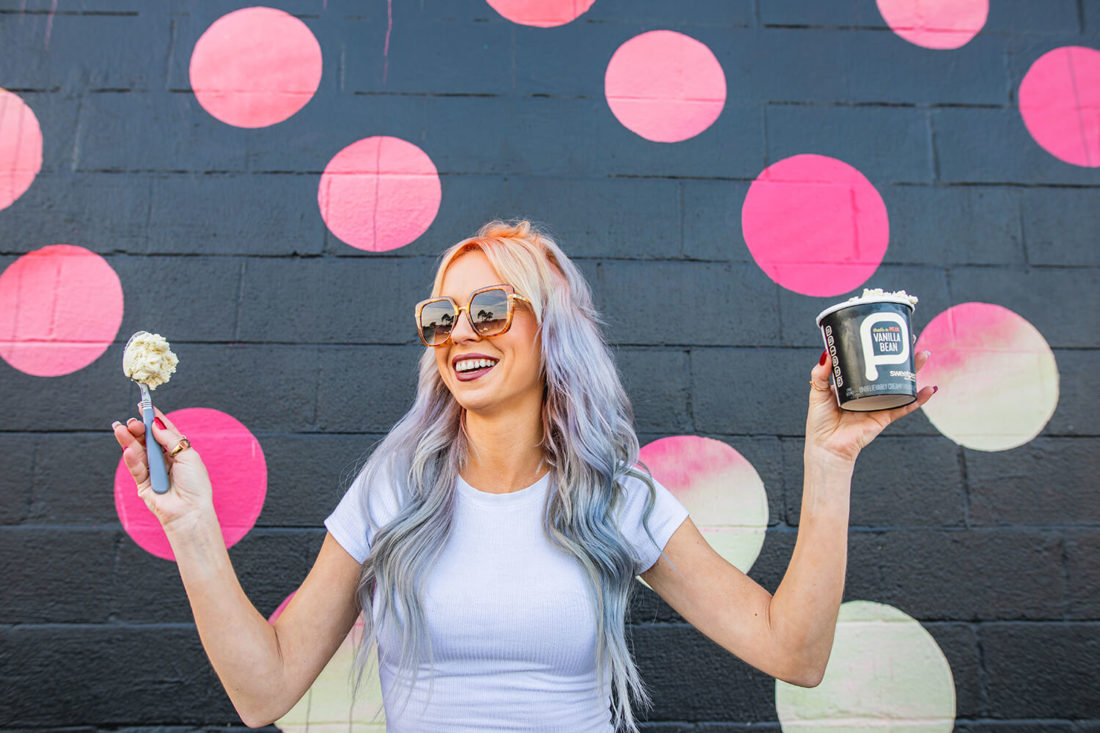 Believe it or not, SweetPea did not immediately arrive on the scene as the delicious non-dairy treat you now enjoy. I mean, chickpea ice cream? Come on now. Clearly this one took some trial and error and LOTS of taste testing before we arrived at the creamy deliciousness that is our plant-based ice cream. Once that was behind us, BOOM! We had a product we loved and were proud of… but now what?! Would everyone else like it? Or just us? Would we be living an ice cream version of the nightmare where you throw a party and no one attends? Or like showing up to a party in costume only to realize it is, in fact, NOT a costume party? Or showing up on the first day of school naked? OK, we may have gotten off track here. Basically, we needed to know if people would love our plant-based ice cream as much as we did. Enter the taste testers…
Let's Get it Started
Professional taste testing is a serious job. In our case, it was even more important to get an idea of what people thought because we were hitting the scene with something that had never been done before. Yeah girl…we are the only nationally available chickpea based ice cream. So we started as any sane business team would, which is by locking ourselves in a room for four days with no laptops or technology. Just the team, our notebooks, some cute pens, lots of snacks, and our brains.
Once the creative juices started flowing, we decided we needed to host an invite only taste test. Who doesn't love being the first to know about something? It was also important to invite people we thought would love SweetPea as well as people who didn't even like ice cream (yes, those people exist). We knew from the get go that we wanted to be for everyone! 
Are We Taste Testing or What?
Let us set the scene for you. Our taste testers would arrive at their scheduled time slot and take a seat. Little did they know that the SweetPea team was in the back room listening! They were aware they were being recorded, (we aren't shady like that) but they didn't know we would be receiving their feedback in real time! 
So, each taste tester was introduced to the product and asked for their initial expectations. We'll go ahead and sum those up for you: 
"Uhh…." [Insert confused face here]

"It's probably gonna be nasty."

"Does it taste like chickpeas?"

"It's non-dairy…"

[Insert nervous laughing]

"I'll try anything once!"
Once we got all that out of the way, our taste testers were given a choice of four flavors. 
We brought out their chosen flavor and once their spoon hit that beyond creamy ice cream, we just sat back and watched the magic unfold. We'd sum up the reactions for you, but we think it's better if you see for yourself:
We learned a lot from our first taste test. Some of our flavor names even came out of it! Overall, this was the win the SweetPea team needed. It's scary AF to introduce a brand new product you are emotionally attached to to the world. Yes, we always knew it was kick a$$, but hearing other people oooh and ahhh over it?! THAT'S a feeling we will never forget! And if we ever need a reminder, that's what the video is for!
Now tell us, what was your first thought when you heard about chickpea ice cream? Follow us on Instagram and tag us @sweetpeawow! Order yourself a pint from www.sweetpeawow.com or go ahead and request SweetPea in your local grocery stores!