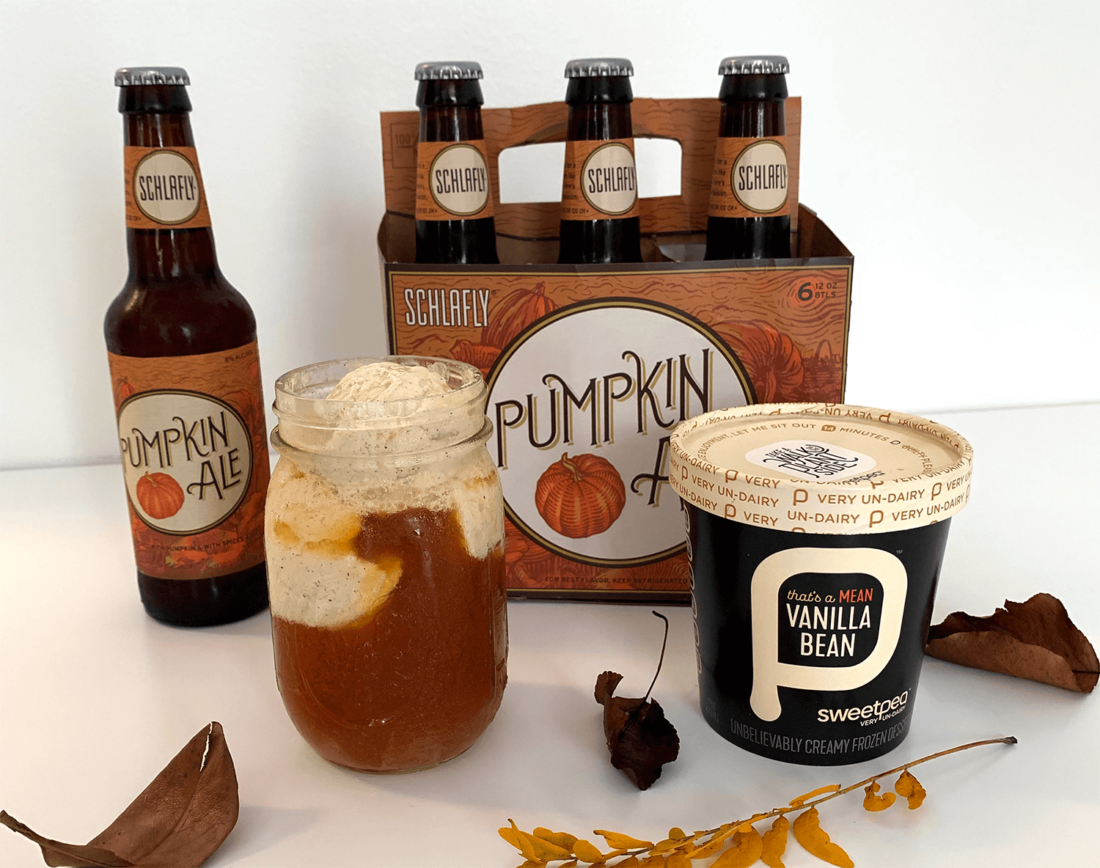 Oktoberfest is the world's largest beer festival that lasts for two weeks and ends on the first Sunday in October. Yes, two weeks. Talk about a real case of the Sunday Scaries that day, am I right?! The official epic throwdown in Germany has sadly been canceled this year due to the buzzkill that is COVID. But don't put your pints down yet. The SweetPea gang has come up with a few ways to help you celebrate Oktoberfest at home. 
We are proud to introduce the following SweetPea (Not Root) Beer Floats.
Krunk Coffee
Our first non-dairy ice cream and beer pairing is a classic involving your favorite stout beer. Think Guinness or your favorite dark, thick brewski from a local brewery. These types of beer are traditionally made with hints of coffee, which is why our Must Do Cold Brew is the perfect addition! 
Grab a frosty mug and spoon out two scoops of our coffee inspired ice cream. 

Next, slowly pour your favorite stout on top. 

Then, watch the magic that is Krunk Coffee unfold. 
This treat will have you buzzing all through any Oktoberfest celebration!
Nice Pumpkin Spice
This next (Not Root) Beer Float is a nod to all the girls out there who define themselves as "basic." We see you, we appreciate you, and we are here to tell you there is nothing wrong with being basic! If this is a category you put yourself in, we know you will most def be at a socially distanced Oktoberfest gathering, so this one's for you! 
Start with your favorite

pumpkin beer

. Trust us, there are plenty to choose from. 

Next, add two scoops of

That's A Mean Vanilla Bean

. 
You have now created your very own Nice Pumpkin Spice. Think a PSL or frappuccino with an edge. Now light your pumpkin candle, and put on your best hat and pair of boots because you are sure to be the hit this Oktoberfest!
Fruity Fall
Comfort flavors don't get to have all the fun this fall! This next float recipe will use the always popular Mango Tango (Feat. Peach) because we believe mango is a flavor for all occasions. For this pairing you will need a hefeweizen beer. Scratching your head on this one? Don't! The name may sound fancy but you can find this almost anywhere beer is sold. This type of brew is made with wheat, amber in color, and usually contains fruit flavors such as banana. Add a few scoops of our non-dairy mango ice cream to a cold glass of this beer and let the fruits of fall reign supreme. The taste of this beer float will be on the lighter side of flavors, so feel free to enjoy more than two scoops!
Now that you have the knowledge and recipes to handle Oktoberfest like a pro, you just need a great costume and a few friends. Now tell us, what are your Oktoberfest plans?!
Follow us on Instagram and tag us @sweetpeawow! Order yourself a pint from www.sweetpeawow.com or go ahead and request SweetPea in your local grocery stores!