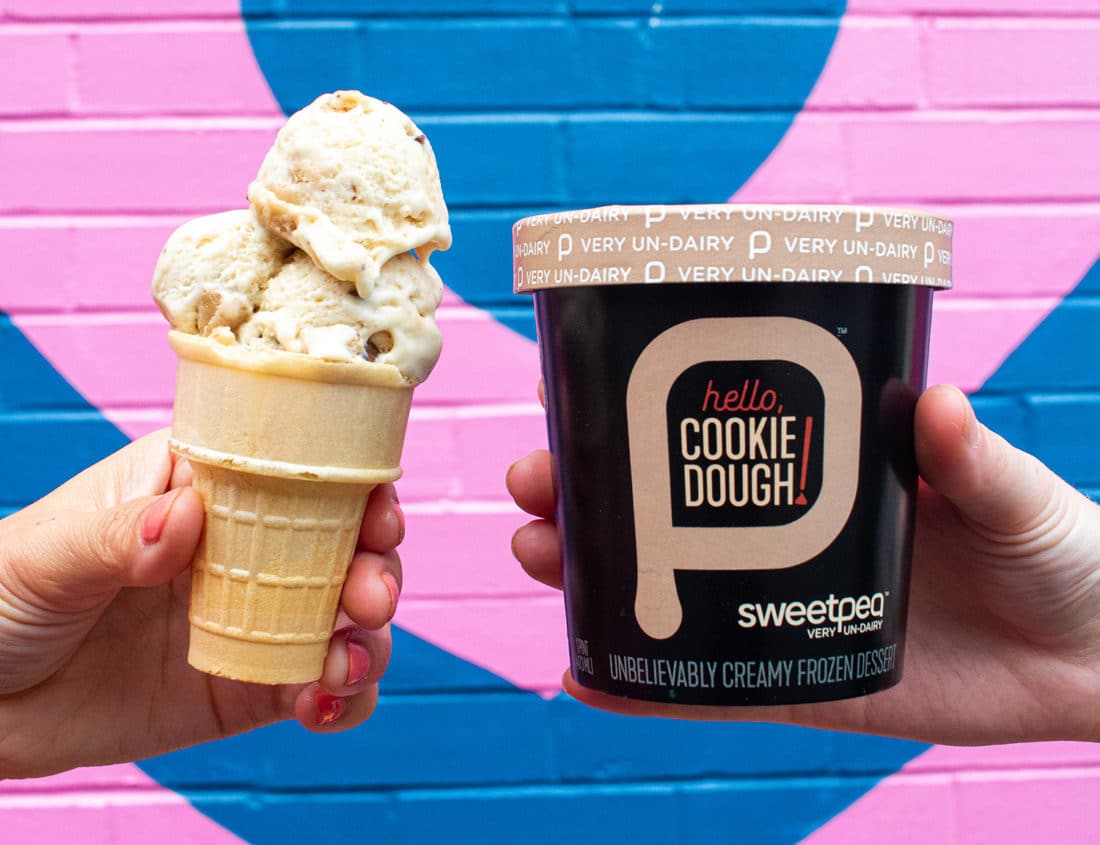 Our favorite show Stranger Things is back with a bang this summer. By now both volumes of season four have dropped, and we're ready for a SweetPea + Stranger Things watch party! Here's our list of Stranger Things inspired ice cream sundae combos your watch party guests will enjoy!
ELEVEN
We know Eleven for her love of Eggos. In the Stranger Things world, Eggos became synonymous with this beloved character. This flavor combination gives huge main character energy and we love every bit of it. For this simple sundae, you're going to need:
Start with a scoop of our Salted Caramel's Sweet Talkin' Pralines pint. Add a scoop of That's a Mean Vanilla Bean. Then, toast a plain Eggo waffle and sprinkle pieces on top of your ice cream. To finish it off, drizzle some maple syrup on top for some added sweetness. This simply sweet sundae is the perfect snack to dig into while rewatching the series.
HOPPER
Mornings are for coffee, contemplation, and missing Hopper! We have major separation anxiety! Hopper should be in Hawkins, not stuck in a (SPOILER ALERT) Russian prison! We miss seeing him around the Hawkins gang this season. So in honor of everyone's favorite cranky father figure, we made the perfect sundae to reminisce about the good old days of season one! For this sundae you will need:
Begin with a pint of our Must Do Cold Brew flavor. This pint is a coffee lover's dream! Next mix in mini Twix chocolate bars. This crunchy and caramel-ly chocolate bar made its debut in the 80s, and we do not doubt that it would be Hopper's go-to sweet treat. Break off a couple of pieces and sprinkle them over a few scoops of your ice cream for a nice surprise in every bite. Last but never least, add some hot fudge on top for warmth and more chocolatey goodness.
STEVE AND ROBIN
We can't forget about this iconic duo! From their days slinging ice cream at Scoops Ahoy at the Starcourt Mall, they have grown to be a fan favorite pair in this new season. To celebrate friendship, we paired a sweet combo for you to share with your bestie while you both enjoy your Stranger Things watch party! For this recipe you will need:
In a bowl, mix the toppings: gummy bears, pretzels, and M&Ms. Then sprinkle a generous amount over scoops of3 Parts Chocolate and Hello, Cookie Dough! This flavor (like most of our SweetPea flavors) keeps it inclusive by being vegan, non-dairy, and plant-based! Lastly, coat these sundaes in caramel drizzle for an extra shot of sweetness. This sweet and salty flavor combination plays off the two personalities of Steve and Robin and we love how it turned out!
MIKE
From the beginning of the show, we've always loved Mike's adventurous spirit and loyal heart. Mike is always on-the-go and for his sundae, that is exactly what we are going to do. For this special Stranger Things watch party sundae you will need:

Layer scoops of T.G.I. Pieday Raspberry with dollops of marshmallow cream for an exceptionally creamy and sweet summertime sundae! This flavor is non-dairy, plant-based, and soy-free! Coat the scoops in graham cracker crumbs for an extra crunch! (Just chew with your mouth closed so as not to disturb your watch party BFFs!)
MAX AND LUCAS
Next, we have Max and Lucas! Max Mayfield is fierce, courageous, and a bit of a badass. Lucas Sinclair is strong, pragmatic, and brave. So for this sundae, we are trying something a bit different. For this spicy and sweet treat, you will need:
If you dare, sprinkle some cayenne pepper on top of your scoops of That's A Mean Vanilla Bean. This flavor is vegan, non-dairy, plant-based, soy-free, and gluten-free! To combat the spice, crumble some honeycomb for a sweet crunch. Then for all you honey lovers, drizzle some more honey on top! This fiery sundae is sure to remind us of both Max's and Lucas's personalities!
BARB
Last but never least, we have Barb! In honor of our fave, here is a sundae that will have to make an appearance at your Stranger Things watch party. For this sundae, you will need:
In remembrance of Barb, we're leaving out an empty bowl. #JusticeForBarb She didn't deserve to go out like that, thus, we must never forget!
We hope that you try out these recipes! Make sure to follow us @sweetpeawow and tag us in your photos!