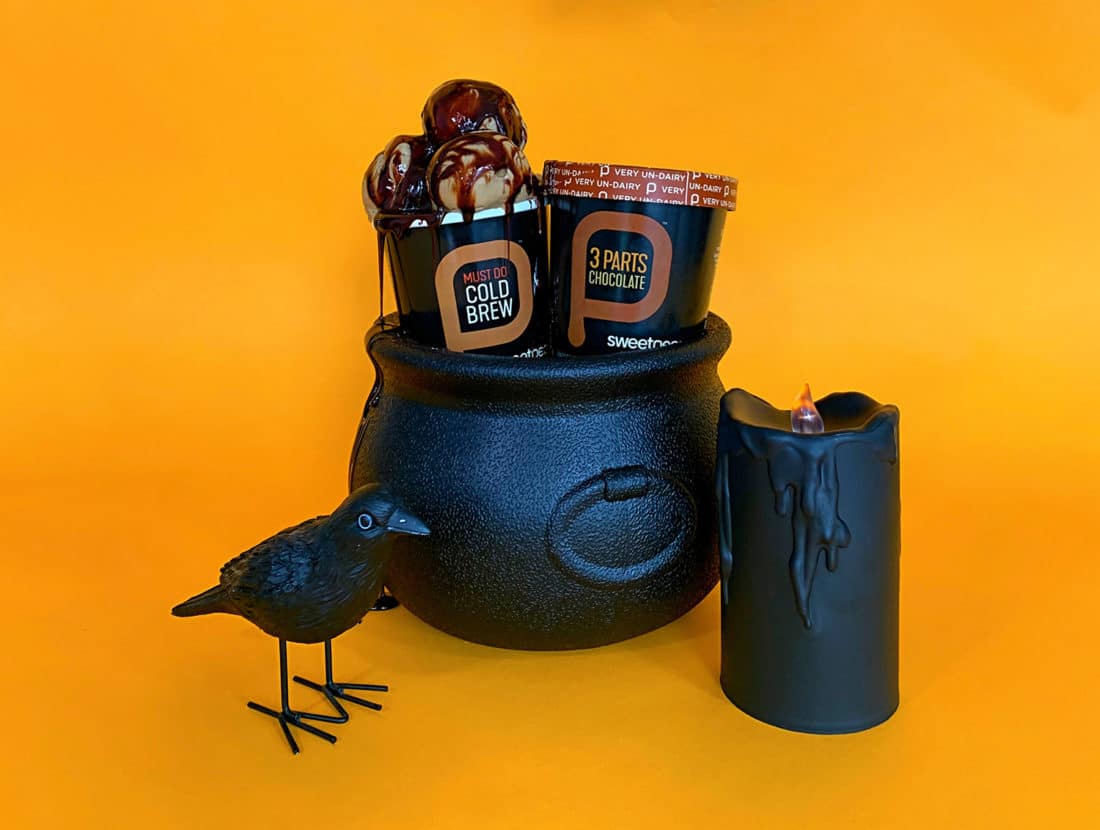 It's our favorite time of year—spooky season! And today we're sharing our favorite recipes to help you create the perfect Halloween ice cream sundae. Trick or treat yo' self to these fun ideas!
CASPER'S FRIENDLY S'MORES SUNDAE
Our favorite ghost is here to represent a classic bonfire treat-turned-sundae. This deconstructed s'mores sundae combines flavors that we loved as kids with an inclusive SweetPea pint that's plant-based and dairy-free! 
Start with a pint of That's A Mean Vanilla Bean, an extra-creamy and extra-delicious flavor. Next crumble chunks of graham cracker and chocolate on top for an added layer of texture. Last, top this s'mores sundae off with a drizzle (or a glob, we support your decisions!) of marshmallow fluff. Last, last, add a drizzle (or a glob—again, we support your decisions!) of chocolate sauce.
These ingredients make for a great sundae bar when displayed in spooky season bowls. And with such yummy flavors, this sundae will vanish in no time!
THE FRANKENSTEIN FRECKLE
This ghoulish sundae is inspired by Frankenstein himself (or "the Frankenstein monster" if you're a Mary Shelley purist!). Bring out your inner mad scientist with this fun concoction of flavors.
Start off with a pint of non-dairy and vegan Mint Chocolate Freckle. The fresh mint flavor combined with rich chocolate is sure to please. Next, add chop up some gummy bears (because Frankenstein is made of parts!) and mix them in alongside some gummy worms. Add a mountain of whipped topping and drizzle zig-zagged lines of hot fudge on top (to better mimic the Bride of Frankenstein's hair, or the stitch marks on Frankie's body) for extra-gooey goodness.
We also think a Frankenstein ice cream sundae bar could be a lot of fun for adults and kids!
WITCHES' BREW
Double, double toil and trouble; Fire burn, and cauldron bubble…Witch, please! Indulge in this super sweet sundae.
Start with a pint of Must Do Cold Brew, our non-dairy, soy-free and gluten-free favorite. If you are of age, add a shot (or two) of your favorite liquor—we recommend baileys or bourbon. If you're not of age or just not into boozy ice cream, we recommend adding a tbsp of freshly brewed espresso (cold or room temperature) and a pinch of cinnamon. Top it off with raspberries for a tart contrast to the deep, rich flavors. This sundae is sure to lift your spirits!
We think this sundae is served best (and most hilariously) in a cauldron-shaped bowl.
THE NIGHTMARE BEFORE HALLOWEEN
We're creepin' it real with this last sundae! Inspired by the one and only Jack Skellington, we've crafted his ideal sundae.
Start with a pint of One 'N Only Cookies 'N Cream, which is non-dairy and plant based. Then whip up some fresh whipped cream to dollop on top. Lastly, sprinkle on chocolate and white chocolate chips for even more crunch.
We hope you enjoy trying these fun Halloween sundaes. These recipes will have your friends calling you the Hallow-queen! Bask in the glory and tag us in your photos at @sweetpeawow. Happy Halloween!