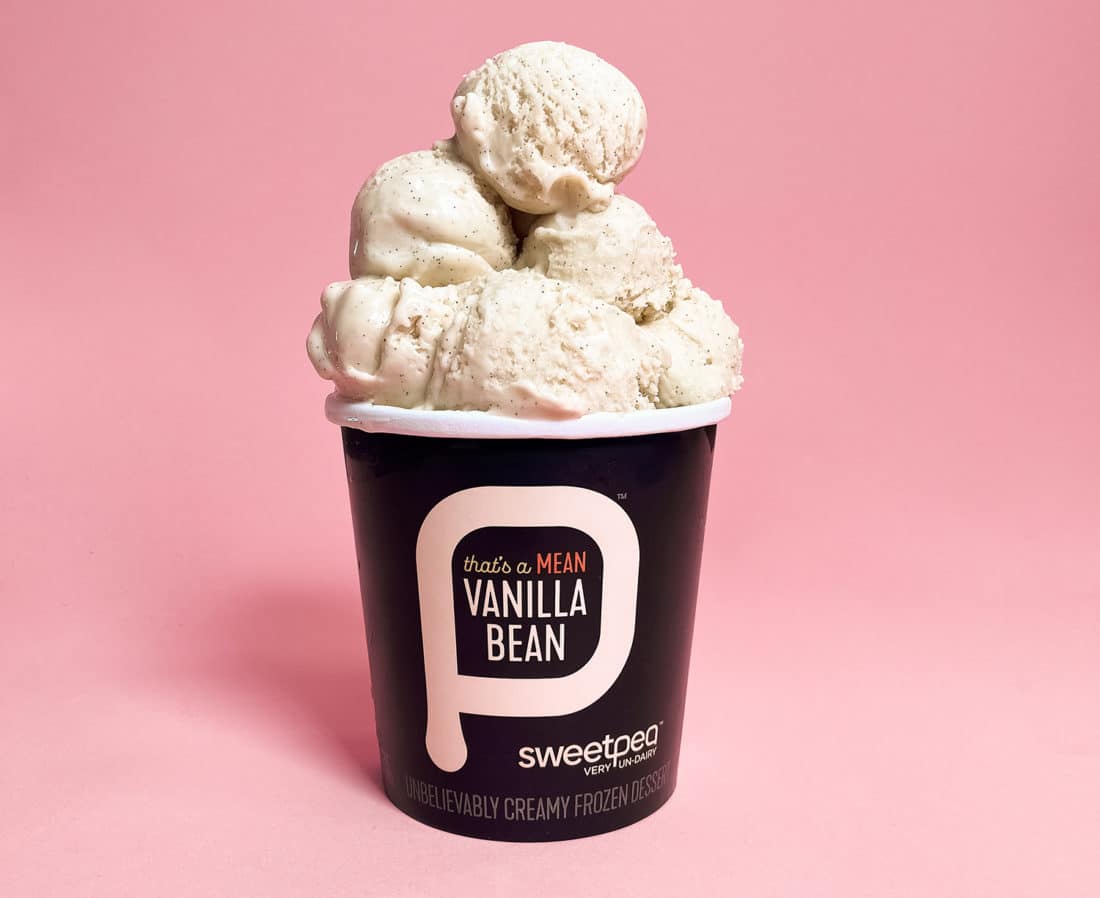 God save the cream Queen!
The Royals. You know them, you love them, and you might secretly want to be them! When watching The Crown, you get a deep dive into a reality unlike any other. Be transported to Buckingham Palace and watch secret romances, national dilemmas, and regal weddings unfold on your screen. Combine this drama with a pint (or two) of SweetPea ice cream for a perfect night. Here are some Crown-inspired sundaes that will remind you of your favorite character!
Queen Elizabeth II
Queen Elizabeth II was not only a certified monarch, she was also a certified chocoholic. This sundae is fully inspired by that love. Start with a pint of 3 Parts Chocolate. This flavor (like most of our SweetPea flavors) keeps it inclusive by being vegan, non-dairy, and plant-based! A Brit's favorite chocolate bar is always Cadbury (right?), so crush up a chocolate caramel bar and sprinkle on top! Lastly, mix in some fresh raspberries for a tart twist to this rich chocolate sundae. We hope you enjoy it!
Princess Margaret
She's a fan favorite for a reason. We love to see Princess Margaret's sassy spirit, relatable personality and unique perspective on being in a monarchy play out on screen. Her dynamic, and sometimes hard exterior, are why we chose Salted Caramel's Sweet Talkin' Pralines as the base for her sundae. On top, douse your sundae with a little bit of bourbon or brandy. This will elevate your pint to the next level.
Princess Diana and Prince Charles
Watching the story of Diana and Charles is a subject of international interest. Their love story, its end, and her life after, will never be forgotten. For this sundae, we created a dynamic choice of contrasting flavors, so you get a little bit of everything!
Start with a pint of Hello, Cookie Dough! This flavor keeps it inclusive by being vegan, non-dairy, and plant-based! On top, sprinkle some chocolate-covered pretzels for an additional sweet and savory crunch. Add a scoop of our traditional That's A Mean Vanilla Bean, and sprinkle with toasted almonds and a drizzle of caramel for a subdued and classic flavor pairing.
The Corgis
Objectively the cutest characters in the series, the Queen's corgis steal the show every time they appear on screen. In honor of these unproblematic royal pups, we've made an irresistibly sweet sundae!
Start with a pint of Peanut Butter Bomb—because what pup doesn't love peanut butter? (It's non-dairy!) Crush up some cinnamon graham crackers, or just use Teddy Grahams, for a fun and playful crunch that will take you right back to your childhood!
We hope that you try out these recipes! Make sure to follow us @sweetpeawow and tag us in your photos!