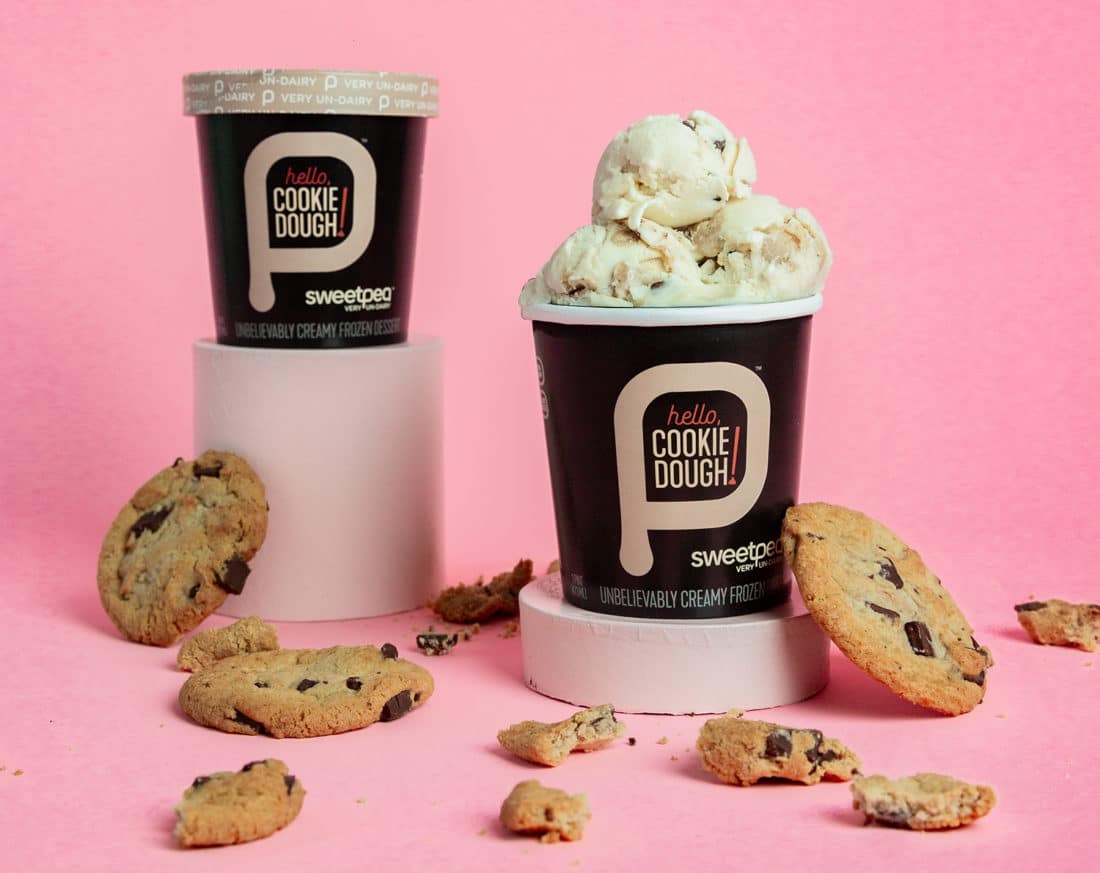 Here at SweetPea we try our best to make ice cream everyone! No one wants to show up to a party only to realize they can't eat the mouth-watering dessert being served because they have an allergy or dietary restriction. That is a true tragedy (that we're all too familiar with!). So this year, keep it inclusive with SweetPea plant-based ice cream! Have a dairy-free aunt? A gluten-free BFF? A soy-intolerant grandma or plant-based partner in crime? We've got you covered! Here are a few delicious, creamy ice cream pints (with topping pairings) that you can share with all your family and friends in 2023!
For your dairy-free/lactose-intolerant aunt!
Say goodbye to bad non-dairy ice cream and say Hello, Cookie Dough! Use this pint and impress the dairy-free or lactose-intolerant masses with loads of flavor, mountains of creaminess, and rich cookie dough chunks. Sprinkle some waffle pieces and chopped peanuts on top for added flavor and deliciousness!
Pssst – All our flavors are non-dairy, so if your aunt doesn't like cookie dough (gasp!), there are eight other flavors to choose from!
For your gluten-free BFF
For your vegan cousin
How can you keep it inclusive for your vegan cousin with SweetPea plant-based ice cream? You can start with a pint of Must Do Cold Brew. What can we say, it's a MUST. This ice cream is rich, creamy, and smooth. Drizzle some vegan hot fudge on top for a truly decadent experience. For a bit more balance, sprinkle on some berries—we especially love using acai berries and blueberries!
Pssst – Of our current nine flavors, all but two are vegan. The two that are not vegan are One 'N Only Cookies 'N Cream and Peanut Butter Bomb.
For your soy-free grandma
We all love grandma and do not want to be responsible for her breaking out in a rash because of her soy-intolerance. Never fear! Next time granny comes over in 2023 treat her right with a few scoops of Mango Tango (Feat. Peach). This plant-based flavor is soy free and pairs insanely well with chunks of banana bread or fresh berries like blueberries or raspberries.
Pssst – If granny isn't into mango, all of our flavors are soy-free except One 'N Only Cookies 'N Cream and Hello, Cookie Dough!
For your plant-based partner in crime
We all have one. Our ride or die. Our partner in crime. The person we'd call if we needed to bury a body (or if we discovered one so that a true crime podcast could interview us together). This person is always there for you and when they decided to eat a plant-based diet, you gave your full support! For this friend, we offer you… 
…the entire lineup of SweetPea ice cream! It's all plant-based, baby! 
So serve your partner in crime any of our flavors. Try the 3 Parts Chocolate or Mango Tango (Feat. Peach). Serve them One 'N Only Cookies 'N Cream or Hello, Cookie Dough! Or the rich, creamy smoothness that is Peanut Butter Bomb. Get them a birthday pint of Salted Caramel's Sweet Talkin' Pralines, That's A Mean Vanilla Bean, and Must Do Cold Brew. Show them the love with a pint of Mint Chocolate Freckle.
And that's it! It's that easy.
No more stressing about what dessert to serve at your next family and/or friend gathering. No more going to five different stores to find the right ingredients so no one is left out of the deliciousness. Keep it inclusive in 2023 with SweetPea plant-based ice cream. To check out all of our flavors, click HERE! To find SweetPea in a store near you, click HERE!
Let us know what your family and friends think! Make sure to follow us @sweetpeawow and tag us in your photos! 
Happy New Year, friends!