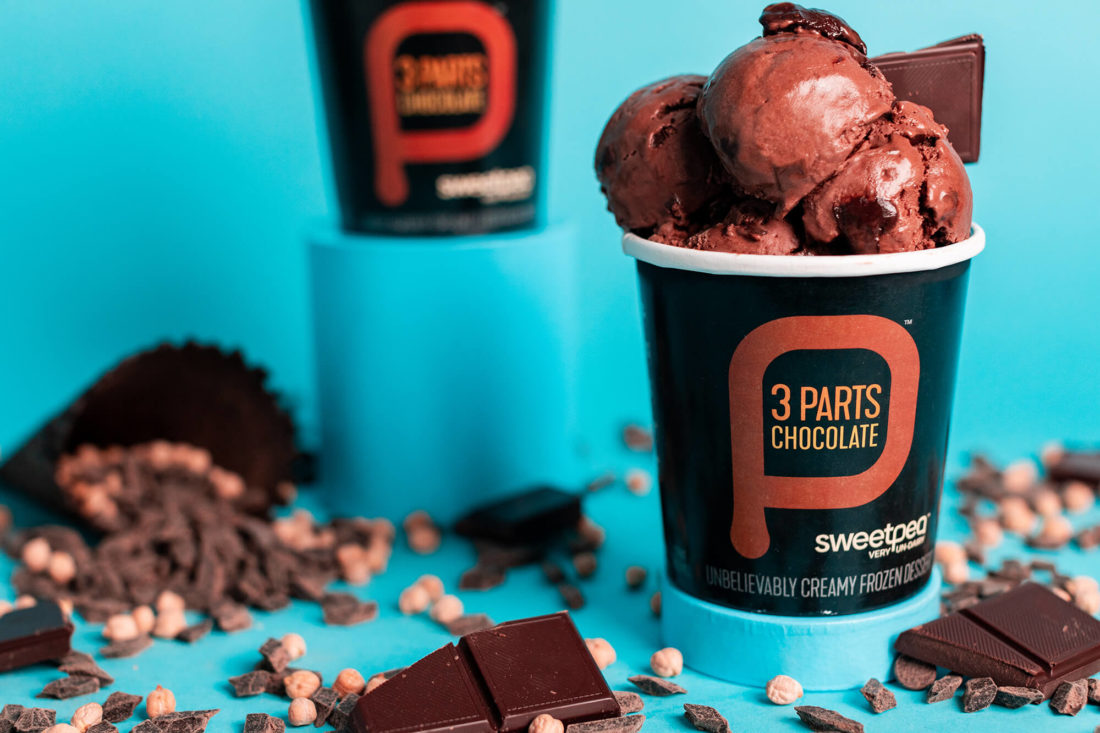 Today we have one big shout out to the queen of flavor herself, 3 Parts Chocolate. She's chocolate-y, swirly, chunky and she's one of our all-time favorite SweetPea flavors. We're giving her the spotlight for Chocolate Ice Cream Day (and no, we didn't make it up. June 7th is actually Chocolate Ice Cream Day #bigfacts). In fact, did you know that chocolate ice cream was actually invented before vanilla? Chocolate ice cream is totally O.G. and we're here to give you a brief, mostly true history of her invention.
1693 Naples, Italy - Frozen Chocolate
Yeah, we're going all the way back to 1693 in Naples, Italy. This is where the very first frozen chocolate recipe was published in Antonio Latini's The Modern Steward. Frozen chocolate was really just the frozen version of common drinks like hot chocolate! I don't know about you, but I'm definitely down for some frozen hot chocolate.
1775 - Just what the doctor ordered
According to Italian doctor Filippo Baldini chocolate ice cream was a recipe for medical conditions like gout and scurvy. I don't know about you, but I think we can all get behind our doctors prescribing chocolate ice cream to cure sicknesses. It certainly cures our hunger pains. #dessertjustified
1800s – Ice cream in America
1843 – Nancy Johnson invents the ice cream machine
Enter Nancy Johnson, the mother of hand-cranked ice cream churn. (#GirlPower) Nancy revolutionized the ice cream game when she invented the first hand-cranked ice cream churn in 1843. This meant that electricity was no longer needed to make ice cream! (Remember, electricity wasn't a thing. Edison didn't patent the lightbulb until 1879.) This lowered the manufacturing cost and allowed for anyone who could afford a hand-crank their own access to ice cream. Without Johnson's invention, ice cream would still be a luxury only the rich could afford.
1913 – Home freezers
You can see where this is going, right? It wasn't until 1913 that in-home refrigerators became widely available to consumers. Then a few decades later, in 1940, home freezers became available. These freezers were separate containers with storage for more than just ice cubes. (A.k.a. a place to actually stock up on alllll the ice cream.)
1987 – SweetPea's founders open an ice cream shop in Virginia Beach
A few decades before founding SweetPea, SweetPea's founders opened an ice cream shop in Virginia Beach. The year was 1987. Imagine it: Whitney Houston's "I Wanna Dance with Somebody" is blaring on the radio, Michael J. Fox and Bruce Willis are the top teen heartthrobs, and cell phones were plastic bricks that didn't fit into anyone's pockets. 
But back to the history…
Not all of our founders could eat ice cream. SweetPea co-founder Heather Romens was soon to discover she was lactose-intolerant. This would lead our soon-to-be SweetPea founders down the long and flavorless road of finding the good non-dairy ice cream alternatives. 
The results… weren't great. 
Between the chalky aftertaste and icy texture, the soon-to-be SweetPea founders decided the best way to have non-dairy ice cream was to make their own!
2019 - SweetPea starts working on their own chocolate recipe
Jump to 2019 and SweetPea has been founded and is doing great things to revolutionize the non-dairy, plant-based ice cream game! They've perfected their unbelievably delicious chickpea base, and now they're deciding on flavors. And of course they knew they needed chocolate (duh). Chocolate non-dairy ice cream was actually the very first SweetPea flavor to be developed. The first sample was ready for a taste test in late October 2019.
After four iterations of chocolate, and when everyone who tried it responded with a wide-eyed "WOW!" 3 Parts Chocolate was a go! Between a creamy chocolate base mix, a rich, fudge swirl and dark chocolate chunks, we know Antonio Latini would be proud (and jealous he didn't think of it). Frozen hot chocolate walked so 3 Parts Chocolate could fly.
February 9, 2021 - 3 Parts Chocolate goes LIVE
SweetPea was officially launched on February 9, 2021. It is now available for purchase online and in select retail stores (with more coming this summer). So no matter where you live in the mainland United States, 3 Part Chocolate (and all the other amazing SweetPea non-dairy ice creams) can make its way to you. 
So what are you waiting for? Be part of chocolate ice cream's storied history by getting a pint today!
Find SweetPea in a store near you or order online and have it shipped straight to your home! Get some 3 Parts Chocolate in time to celebrate Chocolate Ice Cream Day with your family!