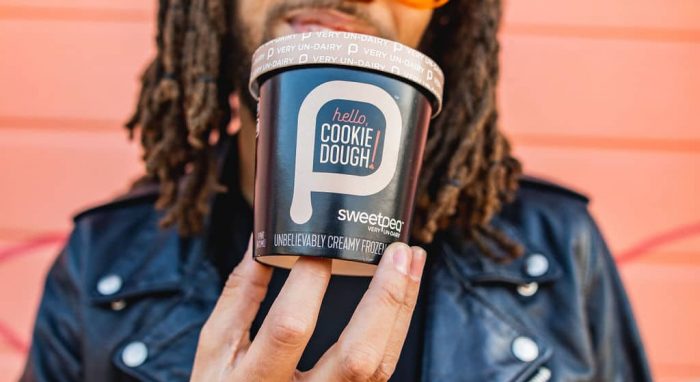 Cauliflower, you've had your moment. It's time to step aside because there's a new chick in town– literally.
2021 is the breakthrough year for chickpeas. 
Cheeky little chickpeas are taking over the food scene. Like cauliflower, you can chickpea just about anything. If you take a quick stroll through your local supermarket, you'll find all sorts of chickpea products sprinkled throughout the shelves. And we're not talking about hummus. Chickpeas have shape shifted their way into pastas, breads, tortillas, flours, meat alternatives, snack foods, cereals and even ice creams.
"Wait, did you say ice cream?"
You're d*mn right we did.
After 5 years of research,development, flavor-testing and refinement, we have brought you the latest and greatest of the chickpea innovations– a perfectly smooth, creamy and indulgent non-dairy, plant-based ice cream made from cheeky little chickpeas.
But before you freak out anymore, let us take you back to the very beginning of our story.
It all started back in Virginia Beach in 1987 with our ice cream lovin' family. We were so stoked on ice cream that we took our family's special recipe and opened up a scoop shop for the whole community to enjoy. Needless to say, it very quickly became a hit.
For years, we put smiles on the faces and ice cream in the hands of locals and visitors from all over. It couldn't have been more perfect until one of our very own developed a lactose intolerance. Honestly, so rude of dairy.
That was NOT going to fly with us. We're a 'No woman left behind' kind of family, so we knew we had to explore other avenues. And that's when the journey to make the best d*mn non-dairy ice cream began.
We thought about the *cough cough* basic route of using a nut-milk base, but we knew how other nut-milk based, non-dairy ice creams tend to have icy textures and leave weird aftertastes and filmy mouth-feels. Thanks, but no thanks!
Then, the non-dairy gods graced us with the chickpea.
At first, we had the same reaction, "Ice cream made from chickpeas?!"
It sounds crazy, right?! But we soon realized that the heaps of protein found in chickpeas makes an UNBELIEVABLY creamy and flavor-neutral base for a non-dairy ice cream. Like seriously, SO CREAMY.
Non-dairy magic was made when we paired one of our OG fan-favorite flavors with the new chickpea base. And thus, SweetPea was born.
We get why the chickpea is having such a moment! It really is a hero ingredient.
Chickpeas play a significantly strong role in both plant-based and meat-eater diets. They are an ah-mazing source of:
Protein
Fiber
Iron
Magnesium
Phosphorus
B Vitamins (specifically folate)
Vitamin C
Antioxidants
They are literally perfect–just like you, baby.
So, with a pantry and fridge full of all those chickpea goodies–including the babe of all babes, SweetPea– you can eat guilt-free knowing that you're fueling your body with ALL the right things.
A treat that fuels your body as much as it fuels your heart– NOW THAT is what we're talkin' about.
We are so stoked to be bringing you SweetPea this year. We've been working on this for so long so it would be absolutely flawless–and trust us, IT IS. Beyoncé even wrote a song about it.
Grab your spoons, friends. SweetPea has arrived for 2021. It's the biggest little surprise you never saw coming.
What flavor will you indulge in first?