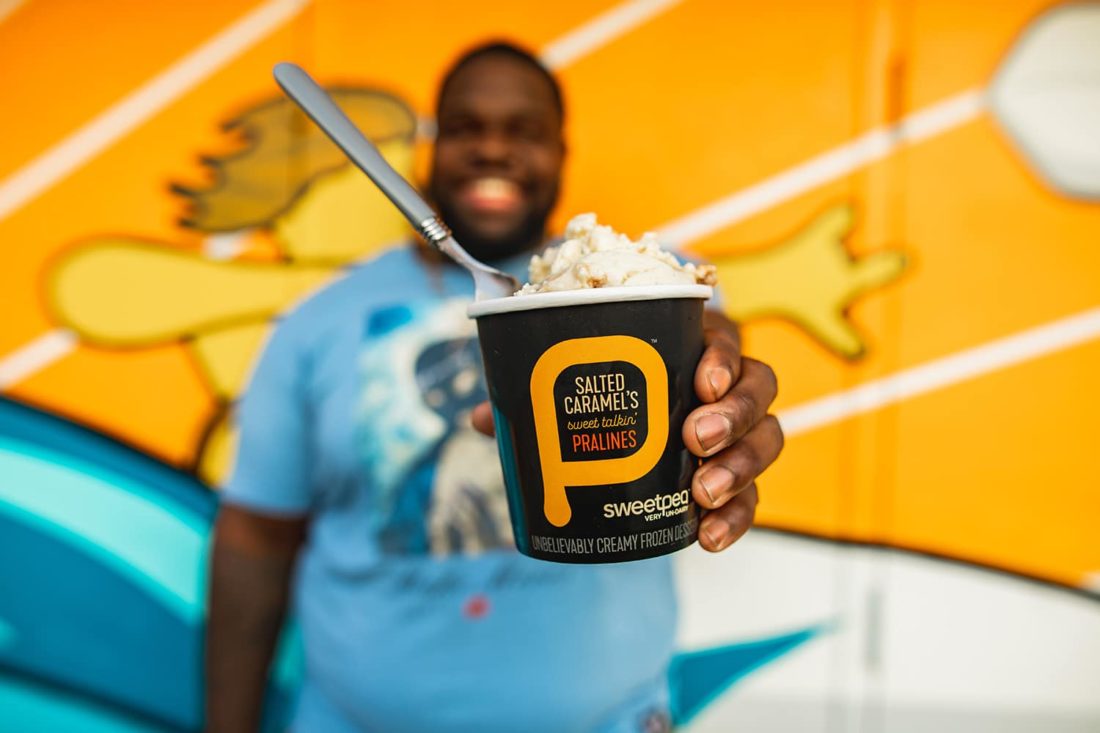 Get your scoopers ready because National Ice Cream Day is July 18th! That's right! Because of Ronald Reagan, the third Sunday in July is National Ice Cream Day and the entire month of July is National Ice Cream Month. It's been that way since 1984. That's pretty cool, right? (Pun intended.)
America is in the lead for the most ice cream consumed, 23 gallons a year, according to the International Dairy Foods Association (IDFA). We definitely earned this holiday!
There is no one known inventor of ice cream, but it's been said that an ice cream-like food was first consumed in China sometime between 618-97 AD. The first dish was made from flour, buffalo milk, and camphor (an organic compound commonly used in lotion)—definitely not the most appetizing. Then in 1851, commercial ice cream production began in the United states. Flash forward to 2021 and you don't even need dairy to make delicious ice cream!
So, how are we celebrating this rad holiday? We want to give you the inside scoop on how we make our plant-based ice cream! If you're looking for an excuse to indulge in ice cream this holiday, look no further. We will have your mouth watering by the end!
How do we make non-dairy ice cream?
Great question! SweetPea is actually made pretty much the same way as any dairy ice cream. Who would've thought? Well, aside from the whole dairy part of course.
It all starts with a plain liquid mix. Then the flavor-making pieces are added. Finally, it's frozen to make the final ice cream product. Basically, "secret mix" is what all our flavors start from. Ingredients are added to the base mix to give the ice cream the targeted flavoring and coloring. Once mixed, the ice cream is ready to go into the blast freezer and several hours later it's time to dive in!
What's the main difference when making plant-based ice cream?
The difference? That it tastes way better and it's better for you, duh. But besides that, the overall difference between SweetPea and regular dairy ice cream is that dairy ice cream uses milkfat in the base mix, while SweetPea uses a Top Secret chickpea protein formulation.
Another big difference between a plant-based ice cream and a dairy-based ice cream is sourcing the ingredients needed to make the flavor profile. We have to double check that the ingredients are completely free from dairy. This can sometimes be a surprising challenge. Some ingredients like the cookie crumbles for our One 'N Only Cookies 'N Cream have multiple components. We have to carefully examine each component to ensure it's dairy free!
Where was the first batch of SweetPea made?
Wondering where this sweet treat was first created? In a secret lab in Antarctica. LOL, just kidding. SweetPea began in Virginia Beach, VA. One of the founders was determined to create a non-dairy ice cream alternative… So she did!
After nailing down the killer formula, all of the initial flavor development was created in a 2-quart ice cream maker in a residential kitchen (crazy, right?). They figured out how much of each ingredient needed to be added to the base mix to achieve the best flavor, then scaled this recipe up to large commercial sizes for full scale production. 
SweetPea actually had a number of flavor profiles that were created in the kitchen that didn't make the cut for the first 10 launch flavors. These "vault flavors" will make an appearance sometime in the future. So make sure to stay tuned and keep an eye on our social media for updates! 
We hope you enjoyed our inside scoop on SweetPea! Maybe you now have a better appreciation for non-dairy ice cream. We dare you to celebrate National Ice Cream Day with SweetPea non-dairy ice cream!
Follow us on Instagram, post yourself celebrating National Ice Cream Day, and tag us @sweetpeawow! Order yourself a pint from www.sweetpeawow.com  or go ahead and request SweetPea in your local  grocery stores!