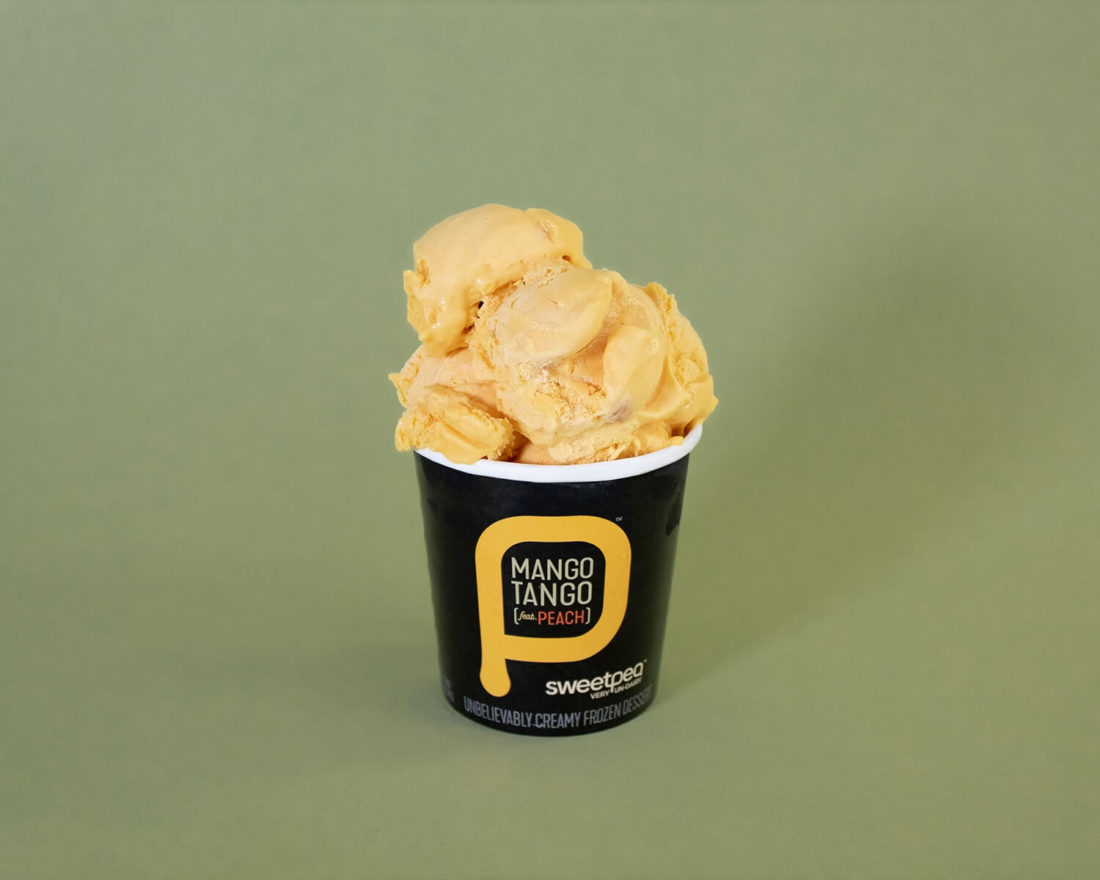 Season 2 of Bridgerton is scheduled to premiere March 25th, and if you are anything like the SweetPea gang, you have been counting down the days! Bridgerton is the ultimate binge show, which means it is also the perfect opportunity to perfect your snack game! With 8-10 episodes in a season, you are settling in for a marathon, not a sprint. Pairing a SweetPea themed snack during your Bridgerton watch party will prevent that tummy ache from sneaking up on you from indulging too much. We are plant-based and dairy free, remember?! Well, enough about us. Grab your finest party dress and silk gloves, and prepare to enjoy season 2 of Bridgerton with one (or all) of the sweet treats below!
Featherington Sundae
Love them or hate them, the Featherington sisters always stand out. This family is known for their bright color choices, and though some neighbors may disagree, we think they rock the oranges and yellows! The Featherington Sundae combines this family's love of bright colors with our delicious chickpea based vegan Mango Tango (feat. Peach) ice cream since she is the brightest of the bunch! Combine the ingredients below and enjoy at any part of Bridgerton!
Hastings Hot Sundae
The biggest storyline in Bridgerton season 1 is clearly the love story between Simon and Daphne. The Duke and Duchess of Hastings have chemistry that lights up on the screen and the hottest love scenes we have seen this side of The Ton! This treat is rich, hot, and full of indulgence…just like the Hastings couple! Combine the below ingredients, kick back, and enjoy the Hastings Hot Sundae!
One pint of SweetPea's 3 Parts Chocolate or Salted Caramel's Sweet Talkin' Pralines 
Hot fudge

Hot caramel 

Chocolate sprinkles

Chocolate chips

Whipped cream

Cherry on top!
Bridgerton Sibling Shake
The Ton's favorite family is obviously the Bridgertons. With eight attractive and boisterous brothers and sisters, this family provides endless fun and entertainment. Whether you are an Anthony fan, or hold a candle for Benedict, the Bridgerton Sibling Shake will get you in the mood to be entertained by this wild family. Combine the following in a blender, fire up Netflix, and enjoy!
Just because season 2 doesn't premiere until March 25th does not mean you have to wait until then to enjoy one of these Bridgerton inspired snacks! Invite over your pals and plan on a season 1 watch party to prepare for the premiere! Follow us on Instagram @sweetpeawow, and tag us whenever your watch party is!