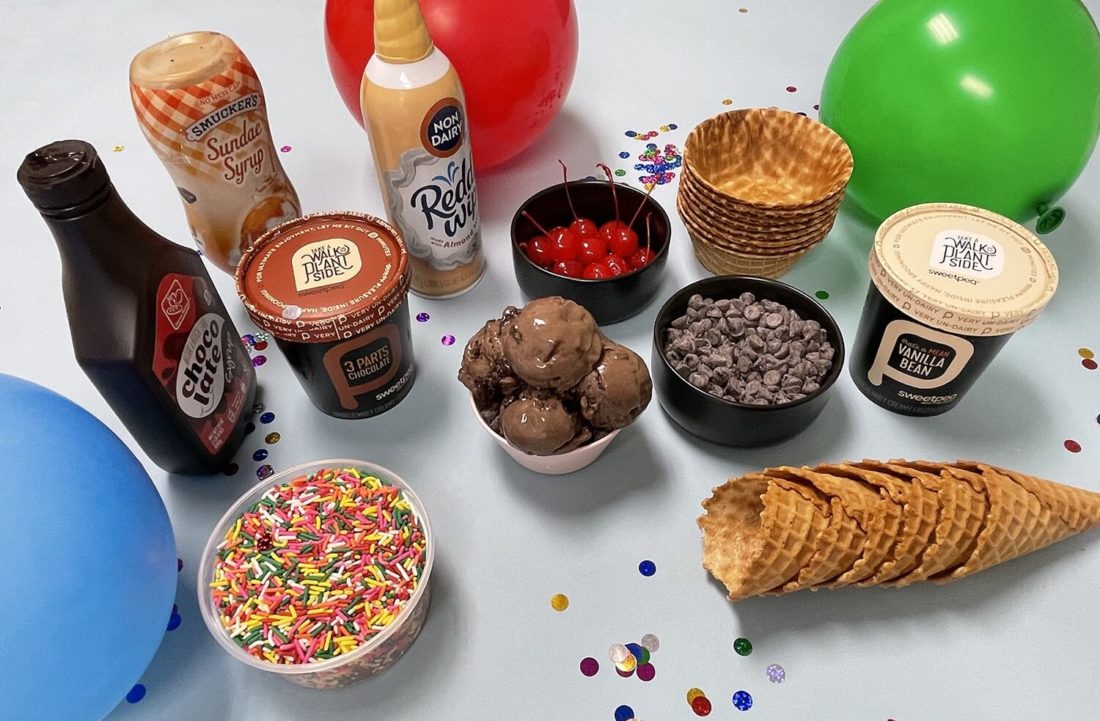 Whoever invented the idea of a charcuterie board was really on to something. Think about it: a perfectly curated display of meats and cheeses along with fun little additions and sauces. Your options are clearly laid out for you, but you still have the freedom to make it your own. Based on whatever your palette is in the mood for, the charcuterie board could produce different outcomes for everyone. It's basically an interactive eating experience customizable for everyone. Genius!
But maybe you're non-dairy or simply don't enjoy cheese. Perhaps olives, honey, and jams aren't your thing, but you like the idea of a charcuterie board. Maybe you just have a MAJOR sweet tooth. Whatever your backstory may be, we think you'll enjoy our version of charcuterie…the SweetPea Sundae Board.
What is a Sundae Board?
If you have never heard of a sundae board, that's ok. We kind of consider ourselves innovators when it comes to this type of thing. A sundae board is basically every dessert lover's dream! It is a spread of ice cream and toppings which allows everyone to create their very own ice cream sundae. Whether you are a chocoholic or prefer the fruity flavors, the sundae board has something for everyone!
How Do You Make a Sundae Board?
Making a sundae board is easy! First, you need a lot of space! We suggest clearing off a table or long stretch of kitchen counter. That way there is plenty of room for everything! Your sundae board will flow best if you follow this order:
Kitchenware
Your sundae board won't be possible without the right tools! Have the following in an area for your participants to grab before they partake:
You will also need to make sure you have serving spoons of all sizes available for the remainder of the board!
SweetPea Ice Cream
The ice cream serves as the base in your sundae board, so it should be first in the lineup! So assemble your SweetPea ice cream flavors accordingly. The best part of an ice cream sundae is that the combinations of flavors are endless! Your sundae board will be a hit if you include all of our chickpea based flavors:
Toppings
Next comes the fun part. Think of this as the cracker and olives portion of a traditional charcuterie board. Some (or all) of the following would be great additions to the SweetPea ice cream of your sundae masterpiece:
Your favorite candies

M&M'S

Snickers

Twix

Reese's Pieces

Skittles

Nerds

Kit Kat

Chocolate chips

Cookie dough

Fruit (strawberries, blueberries, bananas, kiwi etc.)

Cookies 

Peanuts

Gummy bears

Granola

Brownies

Cheesecake bites

Pound cake
The possibilities for sundae board toppings are endless. So add whatever you are feeling!
Finishing Touches
The final section of your sundae board should consist of those final additions to perfect your sundae. These toppings are best served on top, so they should be the last thing added:
Enjoy!
Once you have made your way through the sundae board, you should have a masterpiece ready to devour! Remember, no combination is wrong and the sundae board should be available for seconds (or thirds, we won't tell). Follow us on Instagram @sweetpeawow, and tag us in your SweetPea Sundae Board creations!