St. Patrick's Day is NOT cancelled this year. Not on our watch. It's just going to look a little different!
Yes, we will be foregoing our annual pub crawls and St. Patrick's Day parades, but that doesn't mean we're skipping a day of partying! (Because you KNOW we aren't going to skip a party.)
So, get your green on, turn on some Irish classics, slice the corned beef, chill your Guinness and grab a bottle of Jameson because where about to get festive AF.
When we started thinking about how to celebrate St. Patrick's Day at home, we knew we wanted to include one of the most iconic Irish cocktails: the Irish coffee. Irish coffee is the perfect combination of everyone's two favorite things, coffee and booze. It's super simple to make because it only requires 4 simple ingredients: hot coffee, sugar, heavy cream and of course, Irish whiskey!
But what would happen if we kicked this Irish classic up a notch? Let's say… Irish coffee the SweetPea way?
Say no more.
Our Irish coffee recipe is perfect for those who love to POP OFF on St. Patrick's Day. We leveled up this already sinful little cocktail into something naughtier by making it guilt-free. 
Vegan? Check.
Plant-based? Check
Dairy-free? Check. 
Gluten-free? Check.
Soy-free? Check. 
Sorry, not sorry for flexing that hard.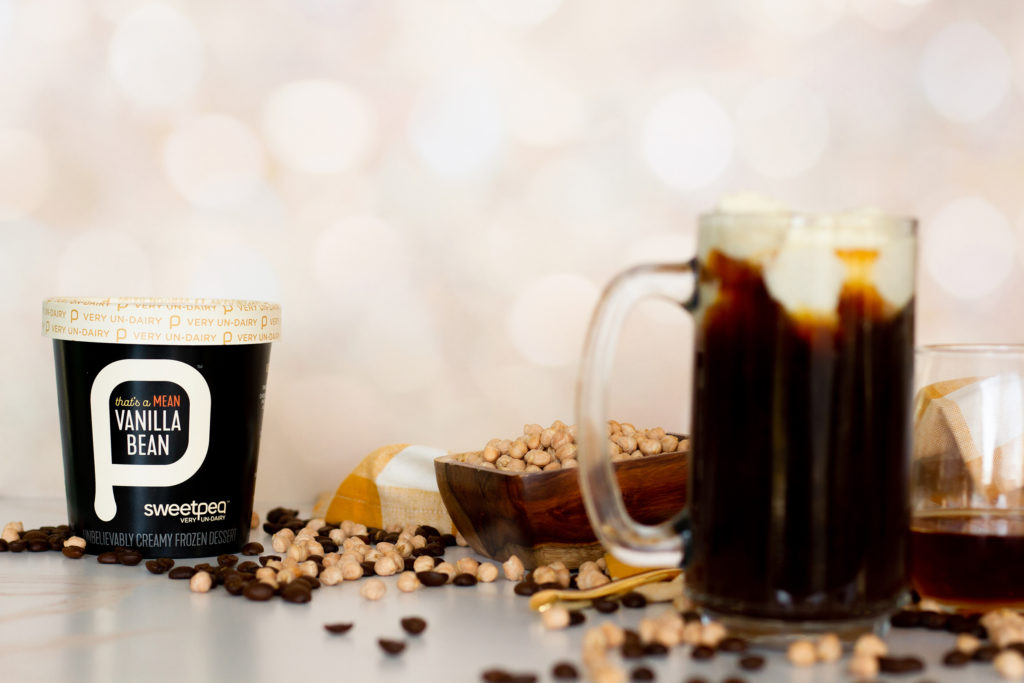 This recipe is easy, simple and delicious on it's own, but also makes a great base for all Irish coffee variations:
Garnish. Top with chocolate shavings, caramel or cinnamon for a little extra fun.
Caffeine-free. Substitute your regular joe with decaffeinated coffee to enjoy this drink without the jitters.
Chilled. Prefer your coffee-flavored cocktails served cold? Serve using cold brew poured over ice.
Virgin. If booze isn't your thing or you want an alcohol-free delicious dessert drink, leave out the whiskey!
SweetPea's Lucky Irish Coffee
Ingredients:
Instructions
In a heat-safe mug, add 1 tablespoon maple syrup. Pour a splash of freshly brewed hot coffee over maple syrup and stir to combine.

Slowly pour in remaining hot coffee then add 1.5 ounces of whiskey. Gently stir to combine.

Taste, add more maple syrup or Irish whiskey if desired.

Top with 1 to 2 scoops

SweetPea That's A Mean Vanilla Bean

Garnish if desired.
Irish coffee is THE cocktail to guzzle on St. Patrick's Day, but luckily it can be made and enjoyed all year! Serve a round with dessert, on a cold day, on date night, or whenever the hell you feel like it. Make a glass for breakfast—we ain't judging! 
Share this recipe with your friends so they can join in on the fun too! 
Click here to order a pint of That's A Mean Vanilla Bean so you can make SweetPea's Lucky Irish Coffee. Don't forget to order by March 31st to snatch the buy 3, get the 4th free promo!
A leprechaun once told me that the pot o' gold is actually at the bottom of your glass… so bottom's up, baby!